The expedition ships I am working on in the Arctic are ice strengthened vessels for navigating safely in the sea ice. They all meet the international safety regulations. They are comfortable and take relatively few passengers and they serve high standard delicious meals. The cabins are spacious and all have portholes or windows. All ships have a large bridge which is always open to passengers and the decks are ideal for photography from the ship, as well as excellent places to watch for wildlife.
M/V Ortelius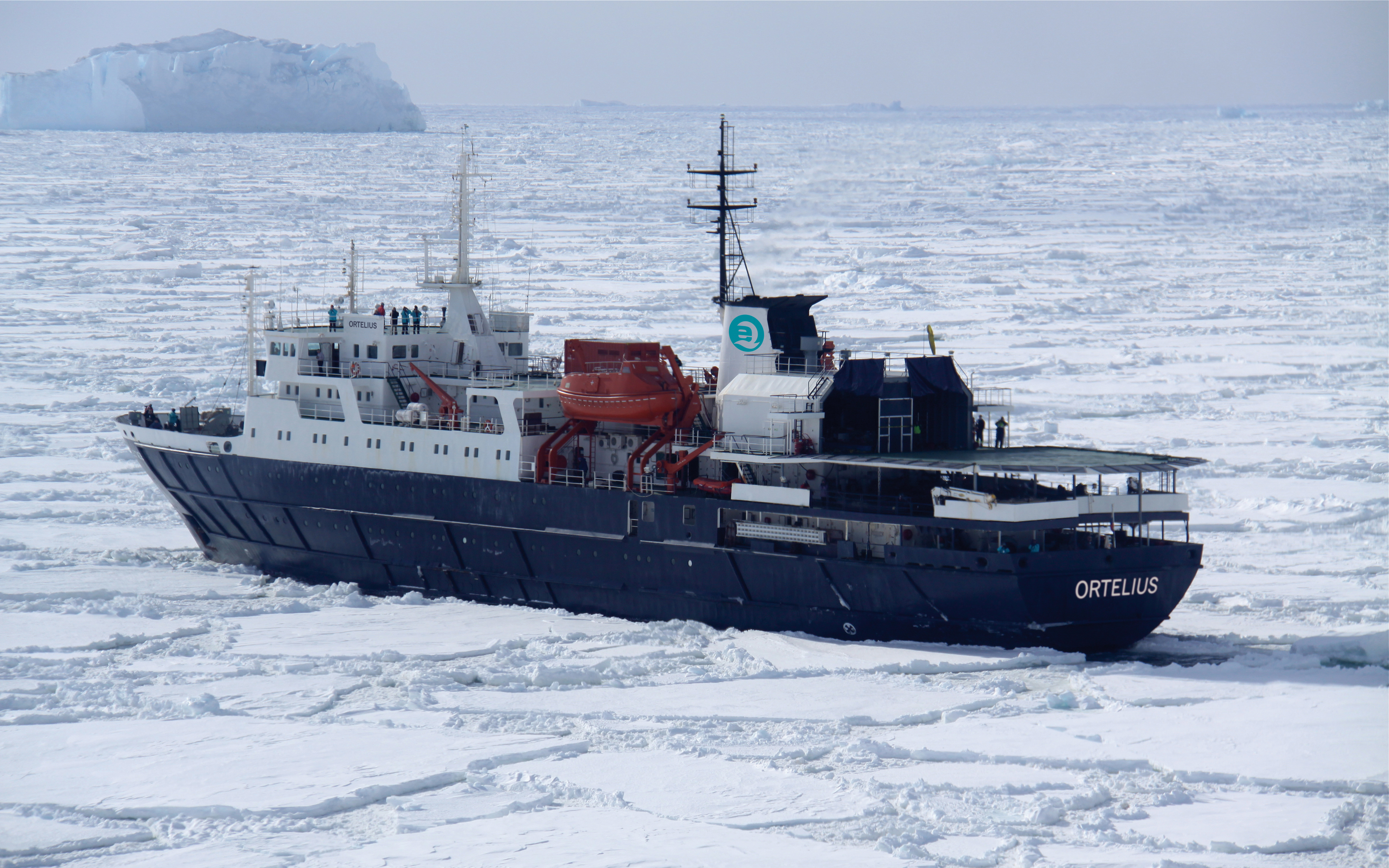 The "MV Ortelius" was built in Gdynia, Poland in 1989, was named "Marina Svetaeva" and served as a special purpose vessel for the Russian Academy of Science. The vessel is re-flagged and renamed "Ortelius". Abraham Ortelius was a Dutch / Flemish cartographer. (1527 – 1598) and published the first modern world atlas, the Theatrum Orbis Terrarum or the, Theatre of the World in 1570. At that time the atlas was the most expensive book ever printed.
The vessel has the highest ice-class notation (UL1 equivalent to 1A) and is therefore very suitable to navigate in solid one-year sea ice and multi-year drift ice. MV Ortelius is at the moment the strongest ship operating in the polar expedition cruising. She takes 110 passengers.
The vessel is manned by 20 highly experienced nautical crew and 19 international hotel crew, including stewardesses. For the Arctic she will have 8 expedition staff (1 expedition leader and 7 guides/lecturers) and 1 doctor.
On board the Ortelius they offer a comfortable hotel standard, with two restaurants, a bar/lounge and a special, well equipped, lecture room. The voyages are primarily developed to offer passengers a quality exploratory wildlife program and the open-deck spaces, which makes her ideal for viewing wildlife.
The ship carries a fleet of 11 zodiacs which can be launched within minutes and offers the possibility to take all passengers on a zodiac cruise when wildlife opportunities arise.
Length: 91, 2 meters, beam: 17, 6 meters, draft: 5, 8 meters and an average cruising speed of 12 knots.
---
The "M/V Polar Pioneer" is ideal for exploring the Spitsbergen region due to its strength and maneuverability. This, 74 meters (236-foot) long ship has an ice rating equivalent to Lloyd's 100 1A, and is fully equipped with first-rate navigational and radio systems.  She was built in Finland in 1985 as R/V Akademik Shuleikin, a "research vessel" that for many years plied the treacherous waters of the USSR's northern coast.
Polar Pioneer is not a luxury cruise ship. She is a comfortable and sturdy platform for photography with a relatively low 360 degree outside main deck that allows easy access to both sides of the ship for photography as well as an open bow deck,  Newer ships have been built with outside balconies that restrict movement and an enclosed bow that affords no photographic access.
By 2023 the ship will be extensively refurbished to enhance the comfort and functionality for passengers of this plucky expedition ship. The enthusiastic captain and Swedish crew are among the most experienced ice-navigators in the world.
The ship can accommodate 48 passengers including photo staff, all in exterior cabins with a desk, small wash basin and porthole or window. All twin and triple cabins have single beds. The mini suites have a separate small bedroom with double bed and a sofa bed in the main room, as well as a TV and video player. The suite features a lounge area with table, a separate small bedroom with double bed, a sofa bed in the main room, as well as a TV and video player, refrigerator, and large forward and port-facing windows.
The spacious bridge is always open to passengers and the decks are ideal for photography from the ship, as well as excellent places to watch for special wildlife.
Shore excursions are made possible by a small fleet of Zodiacs with outboard motors.
---
M/V Explorer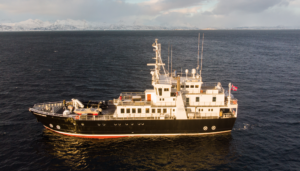 The "M/V Explorer" has recently been renovated to reduce its impact on the environment and to completely redesign the interior. The spacious, refurbished vessel now offers the most comfortable and refined small ship cruising experience in the Arctic. The ship is served by a crew of 8 people, among them a hotel manager and 2 experienced expedition guides. With only 12 guests on board it will feel like you are on a private expedition! 
Inside, there's a spacious panoramic lounge area with comfortable seating where you can relax and attend lectures. A gym, sauna, and jacuzzi are also available for you to enjoy. With an outside lounge-bar on the aft deck and a large observation deck, you will have the best views of the incredible scenery. Or you can choose to spend some time on the bridge where there is plenty of room for you to scan the horizon for wildlife. 
---
M/S Stockholm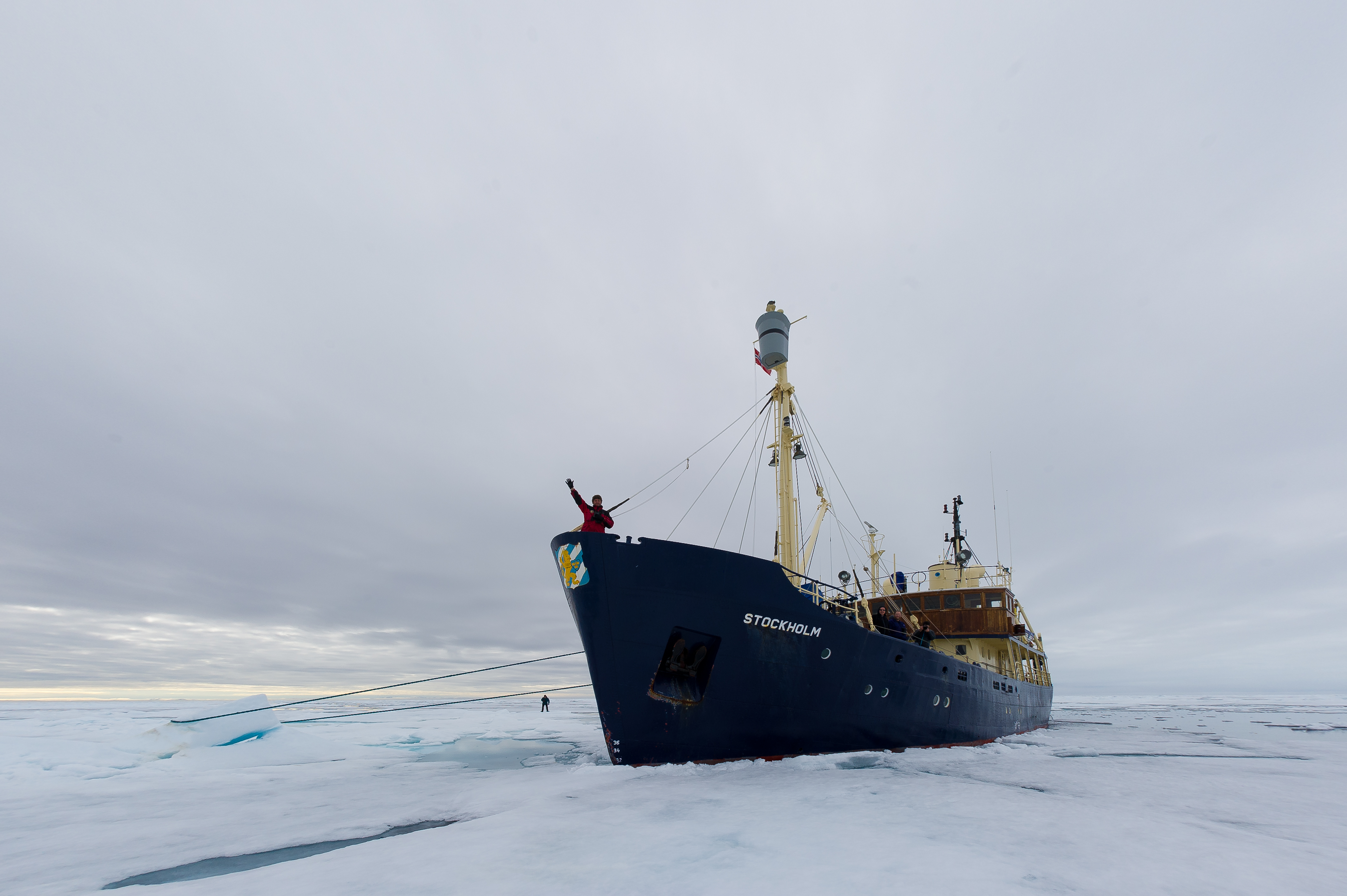 The "M/S Stockholm" is a classic vessel built in 1953 for the Swedish National Maritime Administration. In 2000 she was totally refitted to serve as a comfortable passenger ship. She is rated with a high ice class and perfect for navigating in the sea ice. The M/S Stockholm exclusively carries a maximum of 12 passengers in twin cabins, all with upper and lower berth, private facilities and portholes.
The meals on board are of a high standard and all drinks are included in the trip fare. An entirely different experience and perspective to that of a larger and more conventional vessel!
The Captain (and owner), has 22 years of experience with cruising the waters around Spitsbergen and navigating the pack ice. The crew on board is great and they too are great enthusiasts of the unique wildlife and the pristine wilderness Spitsbergen. A trip on board M/S Stockholm with its personal atmosphere is an experience of a lifetime, simply hard to beat. If a wildlife viewing opportunity is encountered the zodiac can be launched in a couple of minutes and with such a small group we're on our way in a no time!
Length: 40 meters, beam: 8, 8 meters, draft: 3, 5 meters, average cruising speed 10 knots
---
M/S Malmö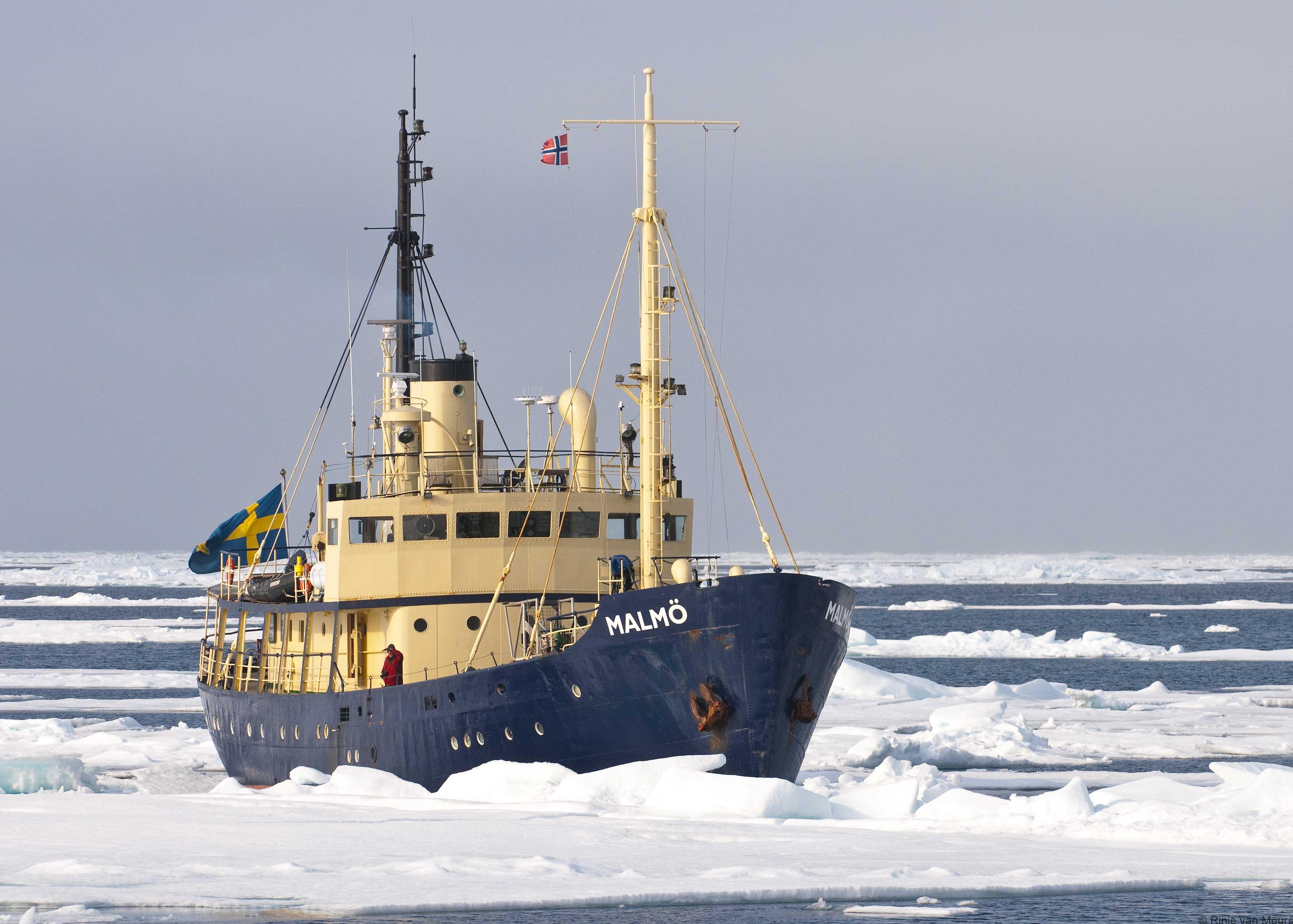 The "M/S Malmö" was built for the Swedish Maritime Administration in the late 1940. She was reinforced to operate in the sea ice in Baltic Sea to lay out buoys, refueling light houses and marking fairways. This has been listed as a traditional ship of cultural value since 2004. However, during 2013/2014 she was refurbished and equipped to meet all the new international safety regulations, but she did not lose her original charm. Malmö is a homely ship of maritime historical dignity and she is decorated in a classic style with an old fashioned Captain's lounge and beautiful wooden decks. She is the perfect ship for a small group Arctic travellers or photographers.
Her overall length is 38 meters, breadth 8.80 m, a draft of 3.5 m, and average cruising speed of 10 knots. She has according the Lloyds the highest ice class.
---
M/S Origo
Like her sister ships, M/S Malmö and M/S Stockholm the "M/S Origo" has been in service for the Swedish Maritime Administration for many years as an ice-strengthened pilot ship. She was built 1956 in Finnboda shipyard for the Maritime Administration and has been used as a mooring service vessel for laying out buoys, for marking of fairways, refueling of Kasun light houses with oil and water, for transport of acetylene to gas light houses, and also for ice breaking and pilot training.
During the early 90's she was refurbished to an expedition ship with retaining her original charm and has been cruising around Spitsbergen every summer. New navigation and safety equipment was installed and the vessel has passed all necessary inspections and safety checks required to operate in the Norwegian Arctic waters.
MS Origo is a homely ship of maritime historical dignity, already loved by many. She is decorated in a classic style. A perfect ship for a small groups (12 passengers) of photographers that need a lot of deck space, or small groups looking for adventure and wildlife close up.
---
M/S Freya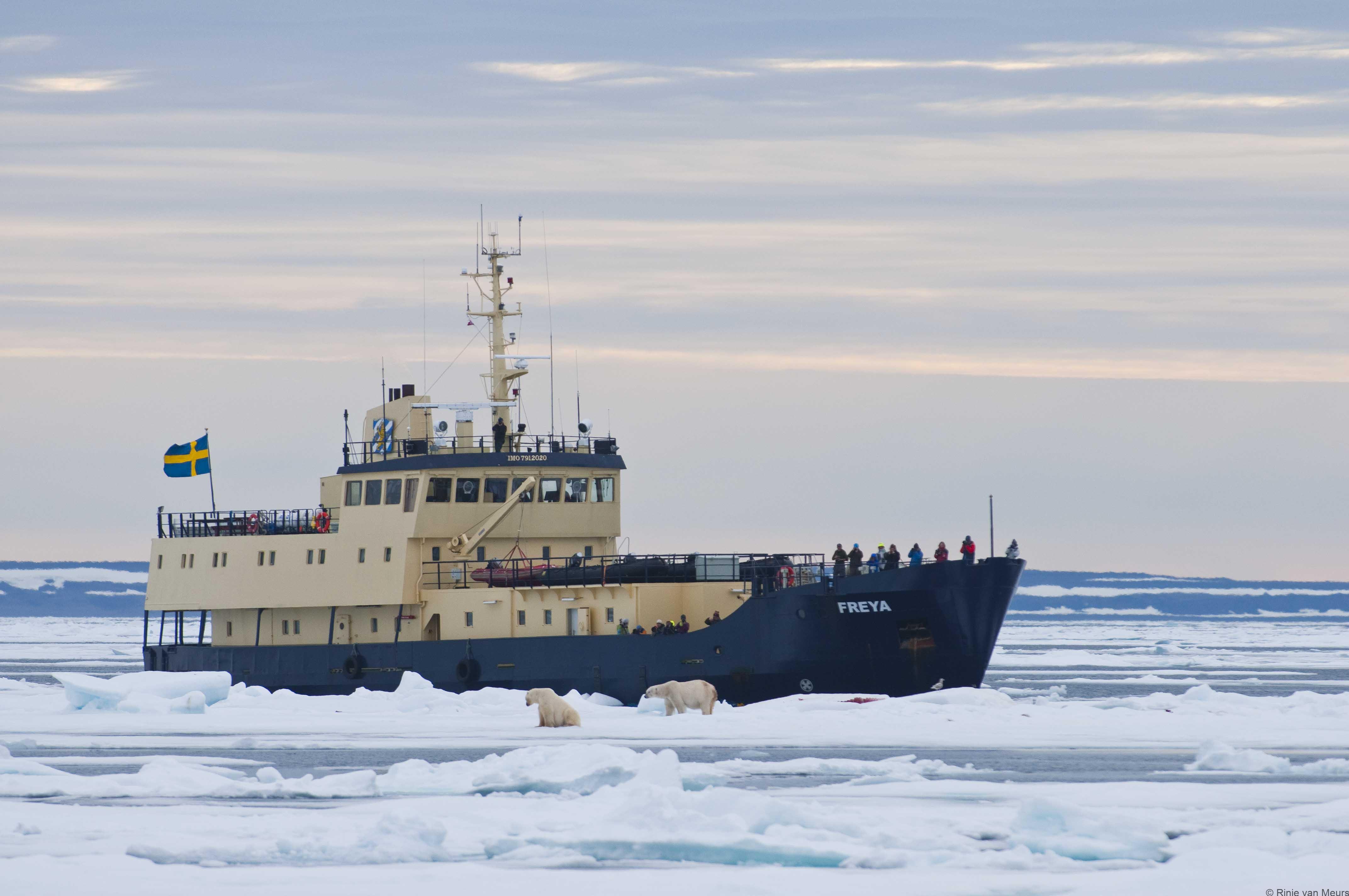 The "M/S Freya" was originally built at Åsis Yard in Åmål 1981, for the Swedish Maritime Administration as the light house building vessel "FYRBJÖRN"
The ship was owned by the Maritime Administration until 2011, when it was taken over by the Swedish Coast Guard.
"MS Freya" is built to Lloyd´s class for unrestricted trade and has the highest ice class 1A. The vessel was rebuilt and extended 5 meters with a tank section at Holms ship yard in Råå 1995.
Besides being a Coast Guard vessel, the ship was also used as an environmental protection vessel and periodically it has been chartered by Umeå Marine University for research. She was then regarded as one of the best equipped research vessels.
In 2015 Master Mariner AB was taking over the ship and named her " Freya af Göteborg". Home port will be Göteborg, Sweden.
In the Falkenberg Yard, she has now been converted to an expedition ship for max 22 passengers. With a engine power of 1360 hp, the highest ice class and certificates for unrestricted trade,  MS Freya will be an excellent and very useful expedition ship for Arctic waters. The ship has excellent outer deck space, relatively low above the water surface, which makes it excellent for wildlife photography. This together with a small group atmosphere and a high standard cuisine, we believe that Freya will provide one of the best possibilities to view wildlife in Spitsbergen at a close range.
One of the captains and owner has been working in the Arctic for over 20 years on board small ships and knows Spitsbergen like no other captain. A fleet of zodiacs can take us any time, and within minutes, off the ship when wildlife opportunities arise!
Length 45,5 meters, beam 10,5 meters, draft 3,70 meters and average cruising speed 10-11 knots.
---
S/V Rembrandt Van Rijn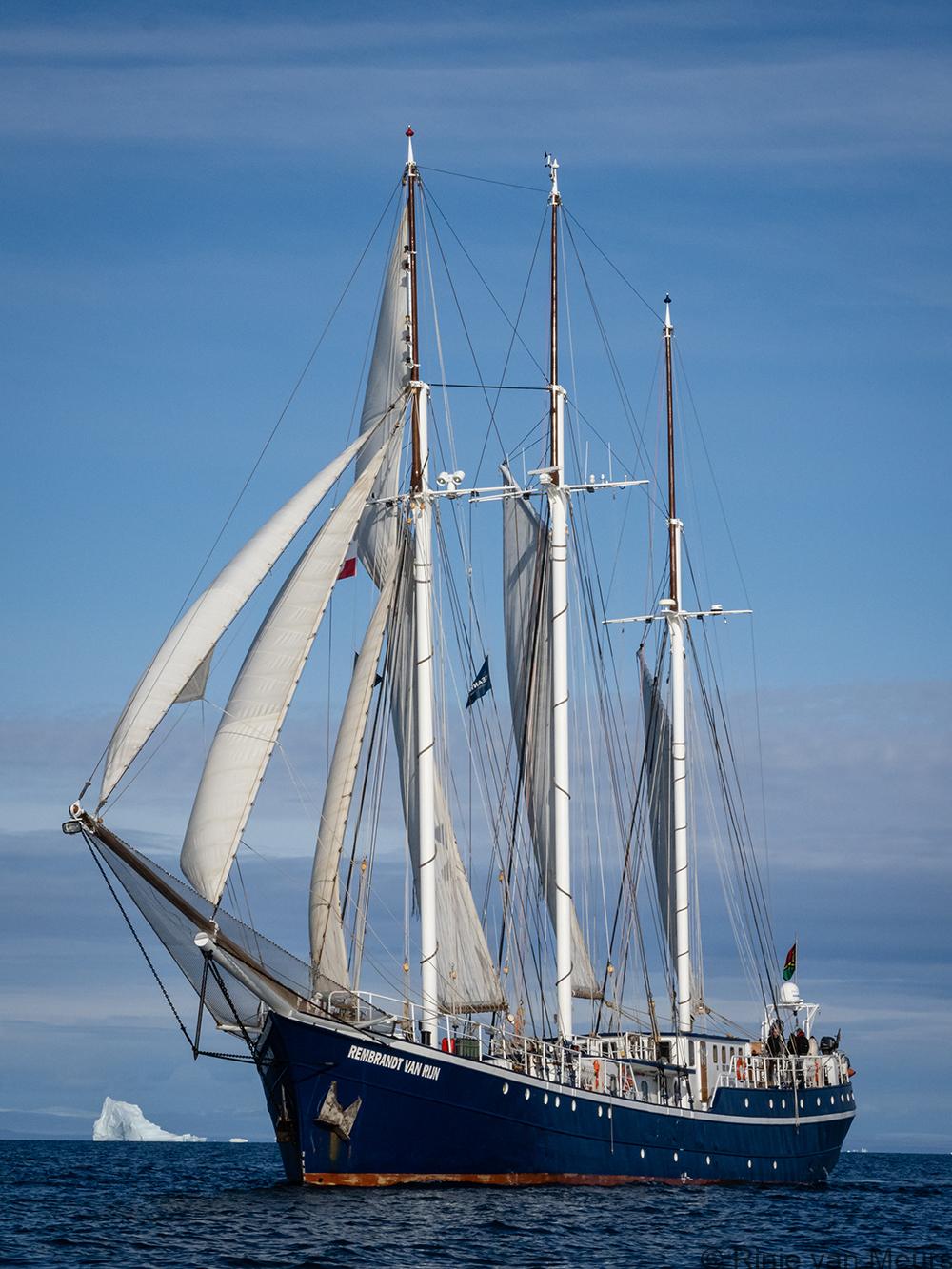 The "S/V 'Rembrandt Van Rijn" was built as a herring lugger early last century. The vessel was rebuilt as a three-mast passenger sailing schooner in he Netherlands in 1994 and sailed in Spitsbergen (1994 – 1996) and in Galápagos (1998 – 2001). The vessel underwent a complete rebuilding and refurbishment program until 2011. The communication and navigation equipment has been completely renewed according to the latest SOLAS regulations.
| | |
| --- | --- |
| Passengers: | 33 in 16 cabins |
| Staff & crew: | 12 |
| Length: | 49,50 meters |
| Breadth: | 6,65 meters (22,9 ft) |
| Draft: | 2,8 meters (8 ft) |
| Ice class: | Suitable to sail in the Svalbard and Greenlandic waters. |
| Displacement: | 435 tonnes |
| Propulsion: | 2 cummins engines together 550 KW |
| Speed: | 6,5 knots average cruising speed |