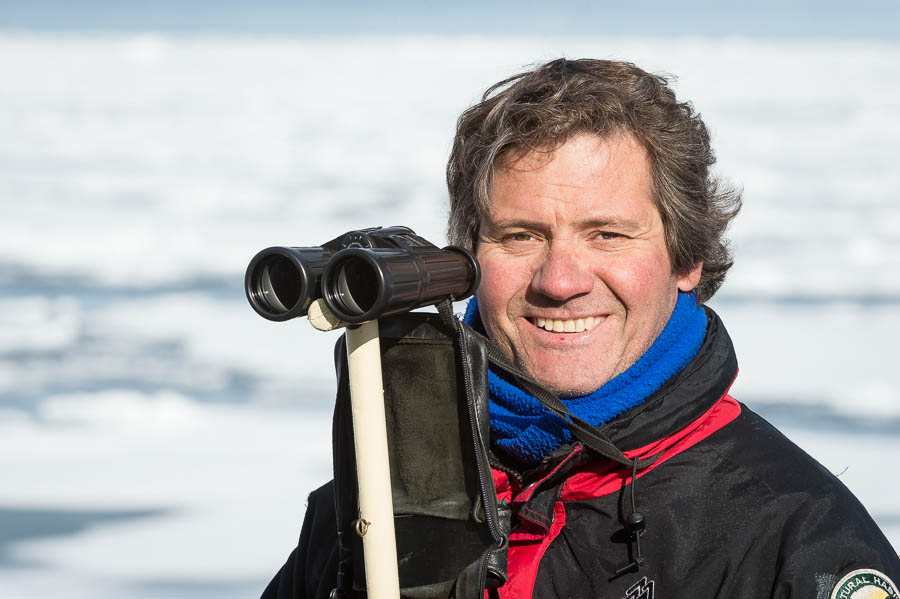 After my formal education in Forestry and Nature Conservation, I started with travels around the world in search of wildlife, and in particular birds. However, I was always attracted to the Polar Regions. After I finished my study, I went on private trips to Iceland and Northern Scandinavia; this was as Arctic as I could afford. I knew early on that farther north into the pack ice in the high Arctic Ocean was my ultimate goal and to explore the sea ice one day, as the early explorers did.
In 1989, I found a job as a potato peeler on board a small Dutch ship, the "old" Plancius, and worked my first season in Spitsbergen, absorbing as much as I could learn. I was definitely hooked on the high latitudes—my earlier dreams were confirmed!
The first few years, I was privileged to be one of the industry's first expedition leaders and pioneers in exploring new landing sites in Spitsbergen and the Antarctic. We established the eco-tourism model which is still used by other expedition leaders. In 32 years, I have made more than 200 expedition cruises around all the islands of Spitsbergen (Svalbard).  I think I know this unique place of, spectacular mountains, glacial ice, and wildlife, better than my own backyard!
Overall during these years, I logged more than 350 expedition cruises, as leader to East- and West Greenland, the Canadian high Arctic, Franz Josef Land, Novaya Zemlya, the Geographical North Pole, Antarctica, South Georgia, the Falklands, the sub-Antarctic Islands of New Zealand and many islands along the Atlantic Ridge. In addition, I spent a year in the Falkland Islands to observe and photograph the sea birds.
In 2000, on an icebreaker to the Geographical North Pole, I encountered the northern-most Polar Bear ever observed. In 2014, I timed the longest dive ever recorded of a Polar Bear, as part of his stalking a bearded seal strategy—a remarkable "aquatic stalk."
Each late fall, I lead groups to the Polar Bears on the tundra at Hudson Bay, Canada, which is unique because the normally independent bears, congregate awaiting the ice on the bay. I must admit that the best adventure is to be in the ice, binoculars in hand, navigation charts at the ready, scanning for bears in the high Arctic!
My photography appears in magazines and books, and textbook covers.  Also, I authored four photo books on the polar regions.—one is about the Polar Bears of Spitsbergen. My books include: Around the World off the Beaten Track ©1996; Polar Odyssey ©2000; Polar Impressions ©2005; Polar Bears of Spitsbergen/Svalbard ©2005; and my latest book THE FUTURE POLAR BEAR, The impact of the Vanishing Sea Ice on an Arctic Ecosystem ©2019